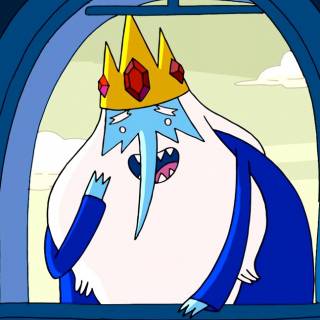 The Ice King (formerly Simon Petrikov) is the main antagonist (often unintentionally) of Adventure Time and in the episode from "The Powerpuff Girls Crossover 2". His typical crime is to kidnap a princess and force her to marry him, which Finn and Jake foil every time. As his name suggests, Ice King is also his title, announcing himself as King of Ice. He is the ruler of the Ice Kingdom. His magical abilities (with the exception of flight, which is contained within his beard) are contained in his crown, and he is therefore powerless without it. His crown is also the cause of his loss of sanity, his unusual blue skin color, his goblin-like nose, his white eyes, and his beard. Some time before the Mushroom War, he discovered the Enchiridion and bought the crown.
Despite being the show's main antagonist for most of the series, he can turn tragic hero and prove to be a valuable ally, as seen in the episodes "Mortal Recoil" and "Beyond this Earthly Realm".
Ad blocker interference detected!
Wikia is a free-to-use site that makes money from advertising. We have a modified experience for viewers using ad blockers

Wikia is not accessible if you've made further modifications. Remove the custom ad blocker rule(s) and the page will load as expected.