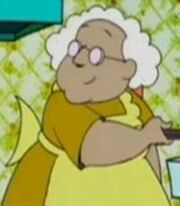 Muriel Bagge makes a cameo appearance in The Powerpuff Girls Crossover in episode 2 and Supporting appearance in The Powerpuff Girls Crossover 2.

She appeared in the story told by Jack about Courage. After Courage got badly wounded she delivered him to Jack to take care of him but she never came back to pick him up. She most likely did this to protect Courage from getting killed by a villain.
In Second Season: Courage wrote message to Muriel, she misses him.
Ad blocker interference detected!
Wikia is a free-to-use site that makes money from advertising. We have a modified experience for viewers using ad blockers

Wikia is not accessible if you've made further modifications. Remove the custom ad blocker rule(s) and the page will load as expected.