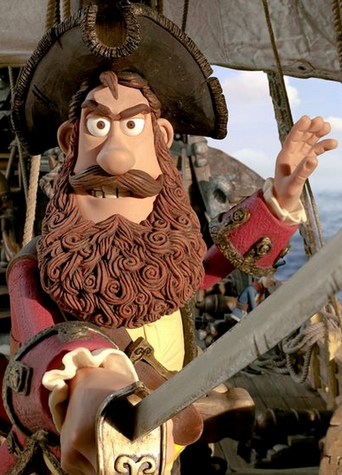 The Pirate Captain is the main protagonist of the movie. Leader of The Pirate Captain's Ship, he is a selfish yet kind being. He is stubborn at times and very protective about his pet dodo bird, Polly. Pirate Captain has a crew that helps him on his adventures and journeys, and like Pirate Captain, don't have very accurate names. The Pirate With a Scarf is in second command and the captain's deputy who is always trying to be loyal and to get out of trouble. He is often ignored by Pirate Captain, which gets him into many difficulties.
The Pirate Captain never really had much success, especially in the Pirate of the Year Awards, which he has entered numerous times, all failing. He had success when he saved his pet dodo bird from the clutches of Queen Victoria, who was in a secret society that feasts on the most rare animal species.
Ad blocker interference detected!
Wikia is a free-to-use site that makes money from advertising. We have a modified experience for viewers using ad blockers

Wikia is not accessible if you've made further modifications. Remove the custom ad blocker rule(s) and the page will load as expected.