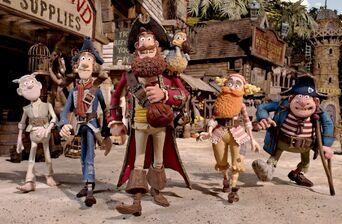 Synopsis
Gumball and this friends uncovers a secret that she's sure will lead her to the Pirates' hidden family treasure of Selkicrk's Island.
Plot
TBA
Characters
Number Two
Pirate with Gout
Albino Pirate
Surprisingly Curvaceous Pirate
Pirate Who Likes Sunsets and Kittens
Polly
Mr. Bobo
Tobias
Banana Joe
Masami
Teri
Molly Collins
Carrie
Carmen
Leslie
Bobert
Rachel
Black Bellamy
Miss Simian
Minor Characters
Mr. Small
Pirate King
Principal Brown
Gallery
The gallery for "The Pirates" can be found here.
Trivia
Ad blocker interference detected!
Wikia is a free-to-use site that makes money from advertising. We have a modified experience for viewers using ad blockers

Wikia is not accessible if you've made further modifications. Remove the custom ad blocker rule(s) and the page will load as expected.