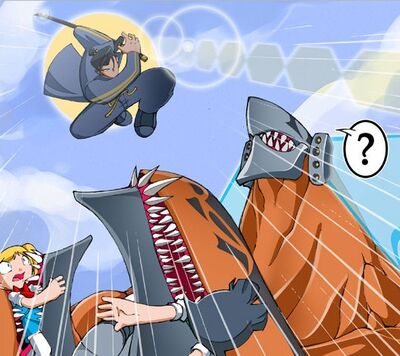 Trouble At The Well is the 3rd Episode of the first season of The Powerpuff Girls Crossover.
Plot
Back at the Megaville Elementary the girls with Gumball and Darwin were walking through the hallways and meeting Penny Fitzgerald. Gumball gets asked by Penny to walk her to the school water fountain. Penny meeting the Powerpuff Girls and reacted on her superhero powers. After they were gone Blossom had another encounter with Dexter, and Bubbles also became "friends". Meanwhile Bubbles was along with Courage outside playing when suddenly the Dread Dragon appeared from nowhere and attacked her while Courage went to the others to call for help. Blossom, Buttercup, Dexter, Gumball and Darwin fight him but he is too stong, eventually Jack comes to save them. After his defeat Mojo Jojo seems to have been watching the fight. When he wants to leave he is encountered by Bell and she took him with her to their hideout.
Characters
Gallerys
Ad blocker interference detected!
Wikia is a free-to-use site that makes money from advertising. We have a modified experience for viewers using ad blockers

Wikia is not accessible if you've made further modifications. Remove the custom ad blocker rule(s) and the page will load as expected.